Photos
















This is a photo of the perfume-making station where you will make your perfume. The roller-top bottles that you will experiment with are on the standing display on the right side of the table. There are about 50 different individual scents. The oils that I will use to blend your perfume are in the tray on the left side of the table.
This is the tablecloth that I use for kid's and teen parties. I use a white tablecloth for adult parties. You are welcome to use your own tablecloth to better cooridnate with your party theme.
I periodically update the presentation of the perfume-making table, so look forward to a pleasant surprise.
---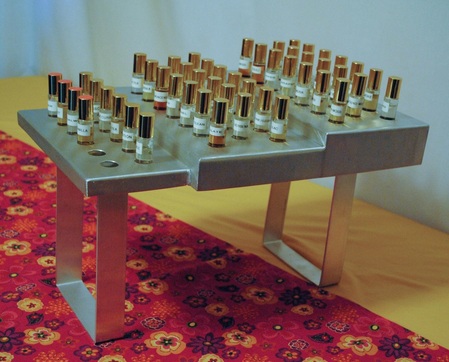 This is a photo of the scented oils that you will experiment with to create a perfume. The bottles have roller tops on them, which you will roll onto test strips and experiment with in different combinations. Some perfume party vendors use dropper-top bottles for their scented oils. I use roller-top bottles, because there is no chance that bottles will be accidentally knocked over and cause a mess. I also believe that there is less wafting of scents when roller-top bottles are used. That can be an important factor, because you don't want to overwhelm your guests with too many scents in the air. For larger Perfume Parties, I use 2 of these scented oil stands and bring my assistant with me.
After you have found the combination of scents that you want in your perfume, you will mark them on your Order Form. I then sit with you and create your perfume until it smells just the way you want it to. Then you take it home with you!
Adult Perfume Parties contain the largest selection of fragrance oils (about 50). For obvious reasons, a standard Childrens Perfume Partiy contains fewer fragrance oil options.
CLICK HERE
(slow to open) for details on hosting a Perfume Party.
---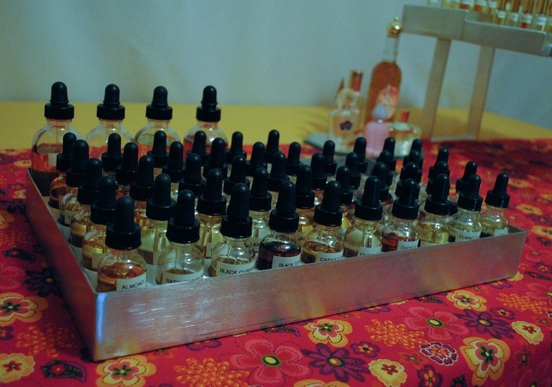 These are the bottles of scented oils that I will use to create your perfume. I will sit with you and use the scented oils you have checked on your Order Form to create your perfume. Since I am familiar with these oils, I have a good idea of how much of each to add to your blend. You won't have to guess how much to use. Your perfume will be of "perfume" strength, unless you want it as an "eau de toilette."
---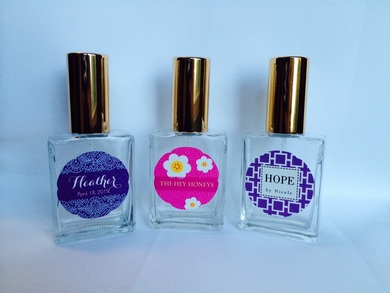 These are samples of the one-ounce, spray perfume bottles used at a STANDARD Perfume Party. I also use one-ounce bottles that are round. Prior to the Party, you choose the label design and color scheme from a wide selection of designs, and then you name your perfume. If you select a different design or size bottle for your party, the cost will be adjusted accordingly.

---
When you Host a Perfume Party, in addition to the perfume that you make, you will receive one of these 2-ounce splash bottles to make an additional perfume.
---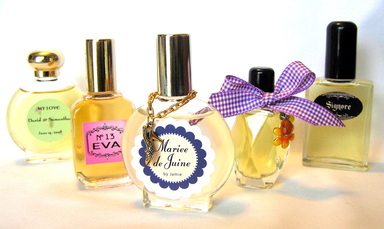 These are just a
few
examples of Fragrance Favors. They are a great party favor idea to give at weddings, birthdays, Bat Mitzvah's and all types of occasions. From a wide variety of splash, spray and old-style atomizer bottles, you will select the size and design of your bottle and create a label that is appropriate for your occasion. Most clients select a Designer Type Fragrance, rather than create a Signature Perfume for these Favors. Designer Type Fragrances are copies of commercial perfumes and smell very close to the originals. If your Fragrance Favors are for both men and women, there are plenty of unisex fragrances to choose from. You can also choose a charm to hang on your Fragrance Favor.
CLICK HERE
(slow to open) to see options for creating a Fragrance Favor.
---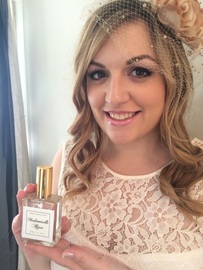 This is a photo of a bride-to-be holding the Fragrance Favor "Mademoiselle Alyssa" that she created to give as a favor at her Bridal Shower. The theme of her Shower was "Chanel." If you are interested in reading more about her fun Bridal Shower and how to create a fun Shower yourself, click here: This is on the website called "Crystal Cave." Crystal helps women dress their not-so-skinny bodies -- all while having fun in the process.
http://www.xocrystalcave.com/bridalshowerstyle/
---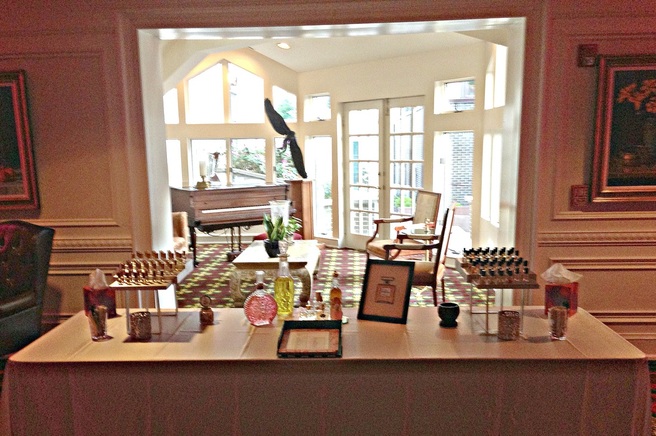 This is a photo taken at the famous Nemacolin Woodlands Resort near Pittsburgh, PA, where I participated in a David Tutera wedding in 2014. For those guests who wanted a perfume but weren't interested in "making one," the bride selected a Designer Type Fragrance and created her own Fragrance Favors. Because there were about 250 guests at the reception, I had two scented oil display stands and brought my assistant with me.

---


















This is an example of how an event planner designed the perfume-making set up for a Bat Mitzvah. Each bottle of scented oil was placed on a stand and identified in a marchasite style photo frame. They also created a special table where I made the perfumes.
---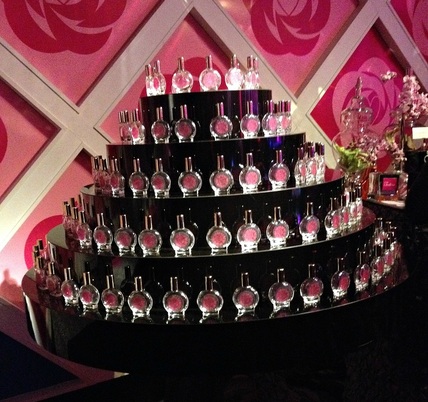 This is how the same Bat Mitzvah event planner displayed their one-ounce bottles.
---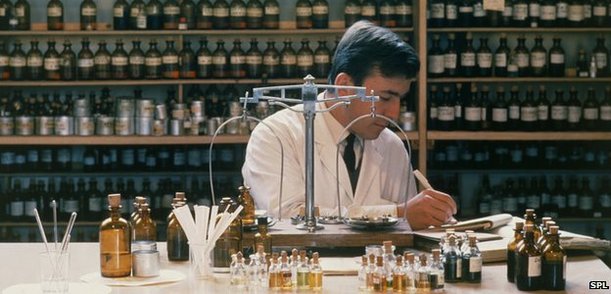 This is a photo of a professional perfumer ("nose") at work creating a fragrance. He is utilizing the "Traditional" Method of creating a fragrance, which was most popular during the 1920's through the 1970's. There is a library of bottled aroma chemicals behind him. He places one drop of each selected scent on a separate test strip and fans together different combinations of strips in front of his nose to determine if he likes the resulting fragrance. In small bottles, he then tests different ratios of these scents to see which ratio he likes best. This fragrance may be just "one" facet of the final perfume that he wants to develop. He smells these test bottles at different time intervals, because the fragrances will evolve over time. It can take several years to develop just one perfume, and it often costs about $2 million to launch one on the market.

Today's professional perfumers use what is called the "Modern" Method of creating a fragrance. The formulas created by this Method are much less complex and shorter than fragrances created using the Traditional Method. The perfumer relies more on his/her sense of imagination and creativity than the Traditional perfumer does. The most frequently used tool of the Modern perfumer is the computer, not vials of aroma chemicals. The perfumer uses special software to create new formulas, which are then mixed by someone else in a lab, or even by a robot. Although it can take several years to develop just one perfume using the Traditional Method, a fragrance can be created by using the Modern Method, in just a few weeks.


​
​



---